The CA Heat Great 8's program
The California Heat Great 8's program is for players 8 years old and younger. Players registered in the program will have on ice skills development twice a week, off ice training once per week, participation in 8U travel jamborees, and tournaments throughout the year. This is an open registration, first-come first-serve program.
---
We host a Parent Meeting for all the families before the start of the new season. We introduce all the new families to the program and give them an overview. Below are some frequently asked questions to help you.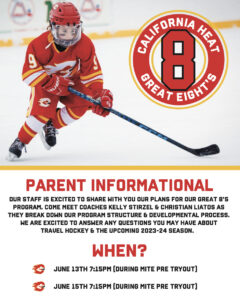 The answer is BOTH!! We encourage participation of any player, boy or girl, who wants to learn to skate and play hockey.
Players can be as young as four years old.
No! It is never "too late" to try hockey! The Mite program runs through age 8 years old. There are many Mite players who did not start playing until they were in second or third grade. Players at this age quickly catch up to their peers without difficulty! If your child wants to play hockey for the first time at age 4 or age 8, we will get them out on the ice and enjoying the great tradition of hockey!
NO! The California Heat Mite program is a development program, designed to teach all kids the fundamental skills necessary to play the game of hockey. We will also introduce the beginning concepts of the game itself. Skating is the most fundamental skill of hockey. Teaching the kids to skate is a major focus of the Mite Program.
The season runs from Mid-October through the first weekend in March. Teams participate in Jamborees and will typically play three games during the jamboree. The games are designed to be fun!
They will have at least two hours of ice time each week from August 1st through the end of February.
All players new to hockey ages 4-8 should register as a "New Mite Skater".
If you child is new to hockey, and older, or has prior hockey experience, please contact a mite coordinator for a recommendation of which level practice to be assigned to. Your child cannot be older than eight to register for Mites. Players may be moved up a level after the beginning of the season, based upon team needs and registration levels. Parents will be notified prior to moving the child up to a new level. Additional programs such as the Little Kings, and Inhouse Program offer additional opportunities to learn to skate.
Registration occurs during "tryout weekends usually held the third weekend of June each year.
LA Kings Valley Ice Center
The California Heat MITES prides itself on the development of its coaches, players, and its hockey curriculum. Our goals are to teach all kids to skate, introduce them to the game of hockey, and most importantly have FUN. We do this in an environment that fosters the individual development of each player. We place kids at the most appropriate level based on their skill, allowing them to develop as hockey players at their own rate.
The overall emphasis in all the Mite Hockey Practices is FUN! We want to teach all the kids to love the game of hockey. The on-ice curriculum has been repeated year after year, and it's proven to be effective. All the practices are a balance of skating drills, puck handling, competition drills, small area games, and, most importantly, pond hockey. All of these practices are led by qualified and certified parent coaches.
All coaches who participate in the program for the California Heat MITES are background checked and a minimum of USA Hockey Level 1 Certified.
Each level practices together on one sheet of ice. Therefore, regardless of what team they are placed on, they will be with their classmates and friends for all practices. Teams are selected with the goal of making each team with even skill level, so that the kids can enjoy playing games against each other. Because the entire level practices together, we do not accept buddy requests.
Yes, according to USA Hockey rules, we cannot complete a registration without a copy of your child's official birth record. Hospital or baptismal certificates cannot be used. If you registered your child with California Heat in previous years and submitted a birth certificate, we will have that on file and you do not need to provide it again. If you are new to the program, USA Hockey requires us to get and retain a copy of the child's birth certificate before processing the registration forms.
Mite Players are required to wear the following equipment.
A red helmet and red gloves are required. Keep this in mind if you buy new equipment you plan to use after Mites.
REQUIRED
• Certified Helmet
• Shin Pads
• Elbow Pads
• Mouth Guard
• Skates
• Stick
•Cup or pelvic protector
• Hockey pants
• Shoulder Pads
• Hockey Gloves
RECOMMENDED
• Hockey Socks
• One Piece cup/sock holder shorts
• Neck Guard
• Hockey Bag